In this poset we will to write about the 6E6 (6Э6) Russian Ratnik program multitool. The main reason to write this is to unify in a only place all the knowdeledge about this multitool, as to help to all interested in buying it.
📝RUSSIAN RATNIK PROGRAM REFERENCE
ABOUT THE RUSSIAN RATNIK PROGRAM
Are you interested in find out the Russian Ratnik Program history? The development and use history, main operators, among many other details?
In a nutshell, the Russian Ratnik program is an infantry equipment modernization program for all branches to the Russian Army. If you want to know more about this program, we recommend you to read our post about it:
🗄️ THE RUSSIAN RATNIK (РАТНИК) PROGRAM | REFERENCE
📋 6E6 (6Э6) MAIN FEATURES
DIMENSIONS
With pouch: 4.3X4.5X16cm
Without pouch: 3.3×2.5×15.7cm
WEIGHT
Without pouch: 350g
With pouch: 292g
We recommend you browse our Instagram publication posted above this text to localice this multitool tools. 
(1) – Blocking pliers
(2) – Pliers pipe grip 
(3) – Wire cutter
(4) – Fat wire  cutter
(5) – Philips screwdriver
(6) – Graver (With hole, for yarns )
(7) – 10.9 cm lenght cutting blade. With Lock.
(8) – Double serrated blade. One for wood and other for glas fiber, metal sheets or anything like that… It also includes a rope cutter, a can opener and a 10cm rule.
(9) – Clip
(10) – Glass-breaker?
HOW TO USE THE 6E6 (6Э6) TOOLS
If you are interested in buying the 6E6 (6Э6) multitool, we recommend you to watch our review in video (English subtitles are available) and read all this review, because its a VERY condensed multitool… EACH space is used to the maximum, so you will need to know how to unlock and get some tools, because to get to some of its you need to make a kind of puzzle.
DESIGN
It's uglier than hitting a parent with a dirty sock. It is a oriented and military-for designed multi-tool , so aesthetics does not seem to be an element that has been given too much attention. It is a steel structure, with 2 colored plastic scales.
AVAILABLE COLORS AND CAMO PATTERNS
It is currently available in 2 colors: Green (with EMR cover) and Pink (with pig pink cover).
It is not a commercial knife in itself, but as we said before, it is part of a military equipment program, so it is not intended to be competitive at a commercial level, but to comply in the best possible way with the contract that they have. signed with the Russian defense ministry, offering a product that meets the established requirements, at the lowest possible cost.
MATERIALS
We have not been able to find what kind of materials this multitool is made of, the only relevant data in this regard is the hardness of the steel used: which is between 56 and 58 on the Rockwell scale.
CONSTRUCTION
It is built in a robust way, and that shows in the finishes. It does not seem to be very well finished to avoid rust, and in fact when they shipped it they smeared it in A LOT of grease (Cosmoline) to prevent it from rusting along the way.
Too much… When we received it we had to disassemble it to be able to clean it properly.
You should know that Cosmoline (also referred to as Cosmoline) is a kind of petroleum-based grease that is used to prevent corrosion on metallic objects. Although Cosmoline is an American trademark, the Russian military has used this grease to protect metallic elements from rust while they have been stored during a long time.
It is a cheap and very effective treatment, but the counterpart is that to remove it is A FUCKING KICK IN THE BALLS and that is the part that will touch us as end users.
There are quite a few methods to remove the cosmoline, although everything will depend on the space that we have to do it, on the object that we are going to treat (It is not the same to treat wood than metals or plastics, since depending on the material that we are going to clean we may or may not use some chemicals or others). The most used are the WD-40, manual cleaning with hot water (The melting point of the Cosmoline is estimated between 113 and 125ºC, so we must be careful not to burn ourselves), but with 80-90ºC should be enought to melt the cosmoline with a few tries.
It is a 6×1 (Vertical molle strips x horizontal molle strips) molle pouch, (In EMR camouflage or pig pink, depending on the color purchased).
The MOLLE strap doesnt have texxtile rivets at the end, if not the entire MOLLE strap is plastic hardered, just like all 6Sh11X gear vests series from the Ratnik program (6Sh112, 6Sh116 Y 6Sh116).
As for its opening system, apart from bringing a textile rivet, it also goes by velcro. Also, on the right side of it (if we look at it from the front), there is a small additional compartment where it brings a small whetstone (or fine file, we really don't know what it is.) On the build quality of this pouch… honestly I have seen Chinese pouches better finished that probably cost less.
You only have to see the crooked seams and the Velcro out of place or badly cut to realize it. It's certainly one of those products that only brother-in-law would brag about, often with excuses like "tough, tough stuff," as if that were synonymous with getting it wrong.
🧪 STANDARDIZED TESTS FOR MATERIAL ANALYSIS
In MilitariaGeneral we want to offer quality reviews based on evidence.
Therefore, we carry out certain tests to be able to objectively analyze the quality of the material to be analyzed. For more information about these tests, visit the section 🧪 STANDARDIZED TESTS FOR MATERIAL ANALYSIS to obtain more information about how we do that and what criteria and premises we rely on.
Clicking in "+" you can get more details.
THEMATIC MULTITOOL
It is part of the Russian Ratnik program, so if you want to have the multitool of this program, either for fetishism or because you like military reenactment, it is unique and there are no alternatives…
ALLEGED MILITARY SPECIFICATIONS
Military specifications are a bunch of characteristics of durability, resistance, endurance and function that all equipment that is manufactured for the military world must accomplish. and we say "alleged", because we have not really found any type of official document that affirms it or any marking that could make me think that it has them … in this case I am guided by the intuition derived from having the product in hand.
INDESTRUCTIBLE, IF YOU TAKE CARE OF IT
It is a multitool that, due to its construction, is designed to last, but not for its materials.
We must maintain it and prevent it from rusting if we want it to be maintained over time.
Like any knife and similar tool … we recommend storing it out of its sheath, in dry and ventilated places and if necessary treating it with oil/grease. WD-40 is the man best friend 🙂
CONS
CHEAP, BUT NOT EASSY TO GET
It is not an excessively expensive multitool. However, the simple fact of having to import it from Russia can cause the price to increase substantially due to shipping and customs.
The added complication to get it makes us strongly recommend considering whether it is worth buying it or better to opt for another option that is easier to get.
RIDICULLY BADLY BUILT POUCH
Crooked seams, oversized and poorly cut velcro, crooked fabric … it's a functional pouch, but its terribly finishesd
SOME TOOLS ARE HARD TO GET
Both the awl and the screwdriver are difficult to get: And this is due to the design, that to try to add the most possible in the less space possible have dispensed with being able to use the multitool comfortably.
RUSTING INCLINATION
After having it stored in its own pouch during the 2020s confinement, when I got it to check its condition, I realized that it had several  rust stains on some metal parts. Nothing too serious, all removed eassily with WD-40.
💬 PERSONAL EXPERIENCE WITH THE 6E6 (6Э6) 
I have had this multitool for about 2 years.
I bought it more to take advantage of the situation (I had a discount voucher for an eBay seller that gave me a very good price), so I took the opportunity to buy it to use it in conjunction with the 6Sh117 vest, and to show it to you, taking advantage of the fact that even As of the writing of this publication, there is no revision in Spanish of it.
If I had to give my verdict about it, after having it for the last two years, use it from time to time, assessing the risk and additional complications that must be passed to be able to import them from Russia, as well as an unattractive price today Today, I do not think they are worth anything except to satisfy some personal whim related to the Russian military theme or the historical-military recreation. If the reader is considering buying it for practical purposes, I must recommend that you give up and evaluate other multi-tools from better known brands such as Leatherman or Victorinox, which more or less for the same price range have multi-tools a thousand and one times more versatile, useful and with less complications to acquire than with 6e6.
It is not that it is a bad multitool … but honestly, we consider that for the same price there are much better alternatives, with less tendencies to oxidation, just as hard and even much more functional.
🛒 RECOMMENDED SHOPPING OPTIONS
TRANSPARENCY STATEMENT: The following purchase links are referral links. This means that for your purchase, MilitariaGeneral will take a small percentage without you pay not a penny more. The profits that we obtain with this will be used to pay for the hosting of the website and buying the materials we show here.
💱

RECOMMENDED PRICE

: 40-50€
*If you find the purchase link down, please send us a message via RRSS, and we will offer you a solution as soon as possible.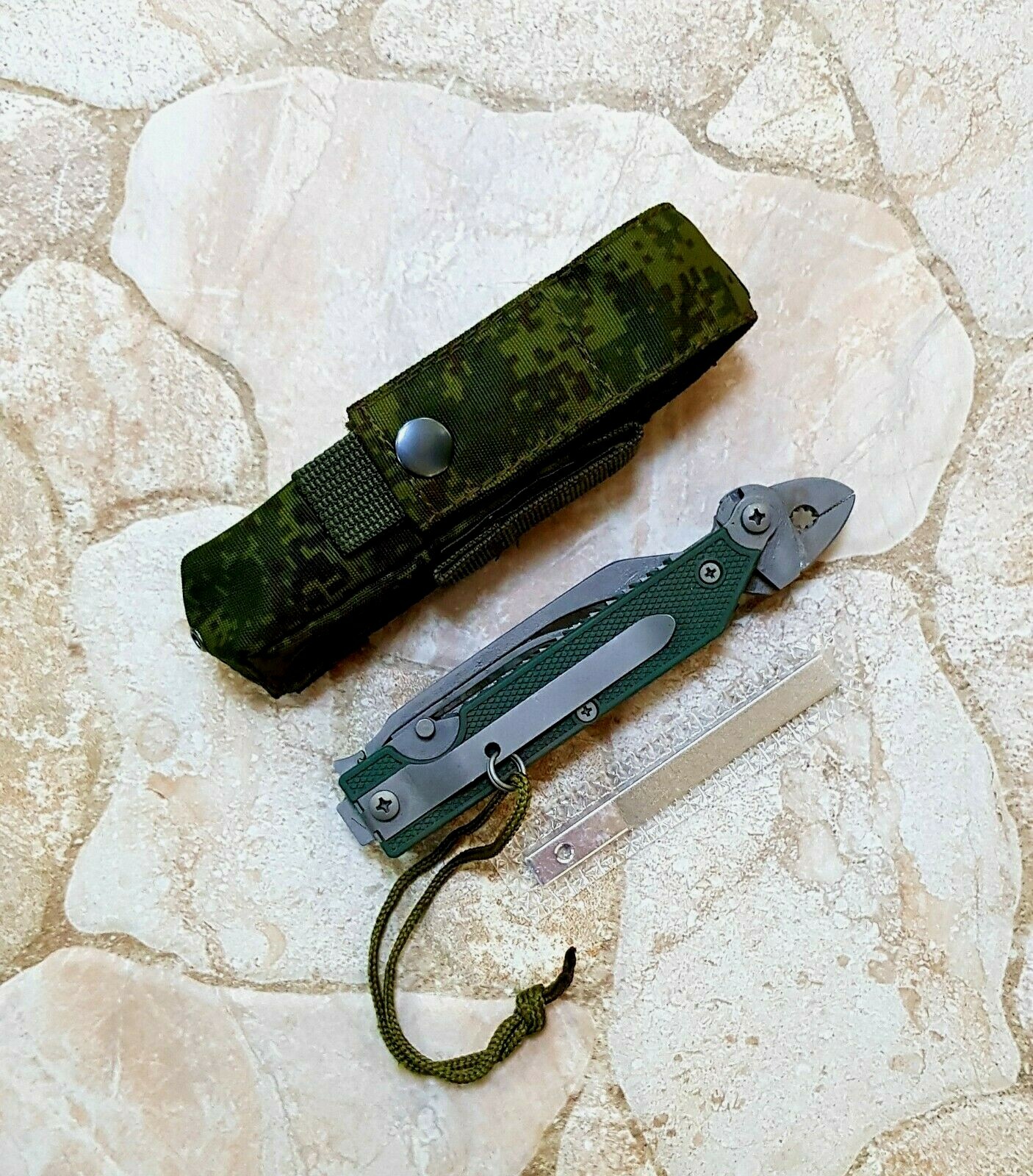 Then, the reader will be able to get an updated list of everything that happens with this reviewed product.
14/02/2020 – Publication release date. No news
9/12/2020 – It apeared few oxide stains in some points of this multitool. Nothing serious, cleaned with WD-40.
📜 SOURCES AND CONSULTED MATERIALS
All information you can fiend here is based in my own experience, adquired with the 6e6 (6Э6) own use.