Next we are going to discuss everything that the MilitariaGeneral team considers important when buying, using and improving a backpack. From the moment we have to choose a specific backpack model that suits our needs, to having all the material we want to carry, in the most efficient way possible to optimize the process.
I have to add that I am a very meticulous person, and that I always try to improve and optimize everything I do. I like efficiency and effectiveness and I hate conformism in the face of botch and crappy.
No matter how small or insignificant an object, an activity, a habit or whatever may seem, I believe that the human being has to reach the top in everything he does.

And why am I telling you this in a post about backpacks? Well, because this applies even in the simple gesture of carrying a backpack. Throughout my life I have been using backpacks almost daily. From taking books and notebooks to the institute or university, to going for a walk in the mountains and practicing outdoor activities of various kinds, and that is why I have always looked for a way to optimize the way in which I have carried my backpacks .
For this I have tried dozens of different backpack models, I have investigated and tested different configurations that would allow me to carry the backpacks that I have tried in the most comfortable and effective way possible, and fortunately for all of us, both for my work and for the environment in which I surround myself, I have the possibility of being able to use different models of backpacks more or less frequently, so below I will reflect all my experience and all the knowledge that I have acquired along the way in this publication.
✅ THE IMPORTANCE OF BUYING A GOOD BACKPACK AND LEARNING TO USING IT
I can understand that to some people everything I have put in the previous paragraph may seem exaggerated.
It is very likely that, and even a certain part of those same people may think that I am crazy about it, but it is also true that it is usually that type of people who often reach 40s with cervical and lumbar problems, with lumbago, sciatica and others.
Precisely for maintaining a simplistic thinking that inevitably leads them to conformity. When I was in high school, I had a teacher who used to repeat the following to us: "What you do when you are young is paid as an adult" and you cannot imagine how versatile that phrase is, although today we use it to refer to to the subject of lumbar health.
CHOOSING A GOOD BACKPACK AND FOLLOWING THE ADVICE THAT WE WILL EXPOSE HERE BELOW, MAY MEAN BEING ABLE TO FULLY ENJOY AN ACTIVITY, AND NOT END WITH PAIN OR DERIVED PROBLEMS.
🛃 HOW TO CHOOSE A BACKPACK
There are several factors that must be taken into account in order to choose a backpack and discard one model over another.
Next we will deal with those that we believe are most important when assessing which backpack to buy (or adapt the one we already have). All these points have to be taken into consideration when buying a good backpack or adapting one that we already have.
Depending on your condition and physical constitution, on the activity that you want to carry out while using said backpack, the purchasing power of the person who is going to buy it and many other individual factors that must be considered individually, you have to choose a base criterion on which you want to base your search for your ideal backpack. We will talk about this concept of the "ideal backpack" later, but for now let's focus on each of the points listed above.
⚖️ LA CAPACIDAD DE CARGA DE UNA MOCHILA
What load capacity do you need to carry to carry out the activity you want to do? How is the lump that it generates with all that load? Is it heavy or light? Can you optimize it somehow? These are the questions that you must be done before deciding to buy one backpack or another, because in a simple R&D exercise you may end up creating new needs and discarding others that supposedly were.
Normally the carrying capacity of backpacks is measured in liters (unit of volume), and this is the result of multiplying the LxWxH. It is important to know the three measurements well (measured with the backpack expanded) not only to be able to calculate the total volume of it, but also to know if it will take us a specific object that we want to put.
However, the fact that a backpack is of greater volume (of more liters) does not mean that it is more practical than others of less. In fact, I have tried backpacks in which, being of greater volume, I have fit less things than in others with less volume. This is due to the options to distribute the load of the same.
Not always more is more and less is less, sometimes we have to analyze things more deeply depending on our needs. We will talk about the options to distribute the load below.
🧶 CONSTRUCTIVE MATERIALS
It is important to look at the construction materials of the backpacks that we want to buy, and think about them to be able to choose or discard some other backpack according to the activity we want to do.
For example … a fabric widely used in backpacks is Cordura.
We must know that the higher the number of Cordura, the fabric will be thicker and more resistant, but heavier, which is not always desirable because it is useless to have the most resistant fabric in the world if then what ends up yielding are the
seams.
Another example is zippers or clips … that if they are of poor quality and break, it is already a chore for the backpack … because yes, they can be changed … but changing a zipper to a backpack is not the easiest or cheapest thing to do in the
world.
and it cannot be done anywhere.
For both items we recommend YKK zippers and clips, which are a quality standard.
🏗️OPTIONS TO DISTRIBUTE THE BACKPACK LOAD
What type of backpack do you think is best suited to the activity you want to do?
Because depending on it, there will be types of backpacks that are better adapted to it. For example, if you simply need to bring clothes, the ideal thing for this would be a duffel bag, a bag (of those gym ones) or a sack-type backpack. Perhaps a backpack with compartments will not serve you so well for this activity …
However, if you need to carry photography tools (tripods, lenses, cameras …) a sack-type backpack will not suit you so well, and the best thing would be to buy a photography or medical backpack (yes, medical … because they are less sharp than of photography, cheaper and not usually a goal for thieves).
📐✏️ THE DESIGN AND ITS RELATION TO THE COMFORT AND LONGEVITY OF A BACKPACK
Although a functional design ends up creating an aesthetic design of its own over time, below we are going to focus strictly on FUNCTIONAL DESIGN, because we believe that a somewhat ugly backpack that lasts 10 years is much more worthwhile than a very beautiful one but that lasts 2.
Zippers vs Buttons vs Straps and Clips
An example of this are zippers, and this no longer only applies to backpacks, but to any other garment. It is widely known that a garment or accessory with zippers is infinitely less durable than one that has straps, buttons or fastex clips, since, although zippers are more practical on a day-to-day basis and more comfortable to wear, in the end they end up breaking and changing one is no small feat.
Therefore, an element to consider is whether the chosen backpack has zippers or not, and if they are, unless they are of quality. I recommend YKK zippers again.
As of today, in terms of duration and longevity of a backpack, I can only recommend backpacks that have been intelligently designed so as not to need zippers, but with simple tensioners, ropes and fastex clips, it has been enough to be able to use it.
The backpacks have sizes, and although most of them are adjustable, we have to take this factor into account. For health, because using the wrong size could lead us to overload the shoulders more than we should, and for comfort, because walking with an object on the back that does not fit your body is not comfortable.
This size must be between the space that is above the hip, and the line that joins both shoulders. Here is an Osprey chart about it.
There are also tables that relate personal heights to the backpack sizes that should be used … but these are standards that may not be adapted to reality. Use whichever you see fit, although I think the direct back measurement method is much safer.
In addition to regulating the height, we also recommend worrying about the total width of the backpack, and that this is consistent with its front profile. There is nothing more annoying when you go with a backpack that is getting hooked and hitting everything because it is considerably more voluminous than our profile.
There are backpacks for men and backpacks for women due to the difference in physiognomy between both sexes. Although there are unisex backpacks, from the MilitariaGeneral team we always recommend that you try to use the appropriate material for each one, since although a supposedly unisex backpack adapts to a woman's lumbar curve, it may not do so much with her breasts to time to pass the straps.
When in doubt, always try to test the backpack in store, or at least use a purchase service that allows you to return the products for free.
Unisex and One Size are the favorite words of manufacturers who seek to reduce production costs at the expense of the effectiveness of their products … 😉
➕ ADDONS TO MAKE EASIER LOADING A BACKPACK
And by this we mean different elements that help us to stabilize and derive the force exerted by the weight. For now we have 3 elements: 
The metal structure: Used mainly in large capacity backpacks and that serves to shape the backpack so that it does not deform, to give a more rigid base of support and prevent things that we carry from getting stuck in the back. 
However, you also have to be careful with this "metallic structure", because if it is poorly designed, or the backpack is loaded more than it should, it can even get stuck in the lower part of the back. The issue of weight is another fundamental factor in this regard. Aluminum or plastic rods are usually a good alternative due to the rigidity they provide without increasing the weight of the set so much. 
The hipbelt: Have you ever heard that the backpack is carried with the hips and not with the shoulders? A good hip belt allows a large part of the load to be diverted to the hips and therefore to the legs, which are the strongest joints in human beings. 
It is important that it be a padded belt (which apart from offering us comfort, allows it to better conform to our waist) and above all, WIDTH. All it does is damage a thin hip belt, because it digs in and does not derive the weight of the load well. It is usually brought by many large volume backpacks. It is interesting that the backpack we buy brings it, or even if it does not, that it incorporates some hooks for it. 
Some system to regulate the height of the handles of the backpack: This goes by designs. There are some that have removable handles to be able to put them higher or lower in the backpack, and there are also adjustable straps by means of shoulder straps. 
Be that as it may, it is interesting that a backpack has this regulation system for the handles, so that it can serve us in a greater variety of situations.
SAILOR´S DUFFEL BAG
Broadly speaking, it is literally a bag with a strap or a handle to carry it.
Typical of the military and sailors, it is used above all to wear clothing. The style of it is very varied, there are more and less capacity and even waterproof. In this regard, I can only talk about the copy of the typical American duffel bag made by Mil-Tec in heavy Cotton.
I have used it for about a year to carry clothes and other necessities and so far it has been perfect.
THE CONVENTIONAL BACKPACK
Neither more nor less than the backpack of a lifetime.
One or more main compartments to carry all kinds of objects. There are simple ones, with a single main pocket, or something more complex with several pockets, one for each item.
I think it is not necessary to go into more detail about this type of backpack.
THE CROSSBODY BAG
So that we understand each other … the men's ladies wallet.
A small bag to carry everything you need to carry in your day to day and that you would normally carry in your pockets. Everything ordered and stored in its respective place. A very interesting complement.
THE CASE
The essential element in the closet of every executive and office worker. Useful to carry from a laptop to folios and notebooks. It can be carried both by the handle and with a strap. A very useful solution to carry little weight in an alternative way to a common backpack. And if you work in the secret service of some country you can also hide an MP-5.
PHOTO BACKPACK
Backpacks specifically designed to carry equipment related to photography. These have a great advantage and another great disadvantage.
The advantage is that it allows you to carry the devices very well protected, since they are usually very well padded and designed for it. The bad news is that they usually have very recognizable shapes, which is why they are usually a clear objective for thieves.
THE RUCKSACK
In essence and meaning it has been a backpack. It comes from the German "der rücken" (the back), but the difference between this and a sailor´s duffel bag is that this is a bag type and usually without zippers (It is usually opened and closed by flaps and clips).
Unlike the duffel bag, this usually has handles typical of a backpack and sometimes other smaller compartments to organize the load a little more.
It would be the intermediate step between duffel bag and backpack, for when you need to carry a lot of things but a conventional backpack does not do the job for you.
It is often used a lot for excursions, camping, pilgrimage etc …
THE SPORT BAG
Like the duffel bag, the sports bag is designed to carry clothes.
Everyone knows how it is, I do not think there is a need to comment more on this type of backpack.
THE FUNNY BAG
Do you want to dress up as a junkie for a day? This accessory can not be missing in your wardrobe.
Shit apart … same as above but with a different arrangement. Theoretically the name is "fanny pack" because it is worn tight at the waist, although lately it is usually seen from the side, passing the strap over one shoulder and the side in front…. an arrangement that I find quite comfortable and practical.
HYDRATION BAGS
It is not a backpack itself because it does not allow to store or carry anything other than liquids … but it may be interesting for someone who only needs to carry liquids … and if that is not the case, there are also normal backpacks that have a space for a bladder hydration.
Surely you will know it more by «Camelbak» (And yes, Camelbak, not camelbag or camelback or anything like that …) but the original name of these devices are hydration bladders. Camelbak is a company that manufactures hydration bladders (among many other things), the most famous … and therefore these objects are often known by that name.
MEDICAL BACKPACK
Although the best known in this regard are photography backpacks, I think that a very good alternative in our world would be medical backpacks (used by combat and medical doctors in tactical or combat environments), due to the large number of compartments they bring. where to store the tools that we need to store, the wide variety of configurations that we can add because they are normally designed to carry MOLLEs inside, so we can arrange the pouches (pockets) that we want, where we want them and how we want them.
As I comment, depending on the model and how it is structured, I think it can serve as a good substitute for the photography backpack, which avoids the great against that we talked about previously. Obviously, we will have to figure out how to carry the elements we want as well protected as if they were in a photography backpack … but since they are so customizable on the inside (which, I repeat, this will depend on the model …) we have many options to be able to protect these devices . The possibility remains open for all those who want to carry their photography equipment as securely as possible but who do not want to be clear targets of thieves.
👨🏻‍🏫 COMO USAR Y CARGAR UNA MOCHILA ADECUADAMENTE
Hay que tener en cuenta dos cosas a la hora de cargar una mochila.  EL ORDEN y EL PESO Y SU EFECTO EN EL CENTRO DE GRAVEDAD CORPORAL
EL ORDEN: Todo lo que metemos, lo metemos porque lo vamos a sacar después, por lo que hay que visualizar que es lo que vamos a necesitar primero  en función de lo que vayamos a hacer.
Por ejemplo, si vamos a acampar y para llegar al sitio seleccionado tenemos que caminar algunos kilómetros, lo mejor es llevar el material de acampada (Hamaca, saco de dormir,tienda…) al fondo de la mochila, pues será lo último que sacaremos. Por el contrario, ropa de abrigo/impermeable y quizá algunas raciones de marcha (barritas, frutos secos, geles, caramelos…) debería de ser lo último que empaquemos en la mochila, de tal forma que sea lo primero a lo que tengamos acceso en caso de necesidad. El llevar estos últimos elementos en compartimentos o bolsillos exteriores y de fácil acceso sería lo deseable.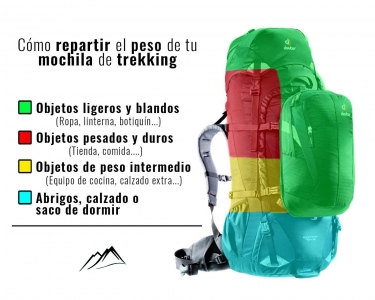 Imagen: Repartición del peso en la mochila. Infografía por Interfuerzas.
🏋️‍♀️ RECOMMENDED WEIGHT TO LOAD A BACKPACK
WEIGHT AND ITS EFFECT ON THE CENTER OF BODY GRAVITY: As can be seen in the image, it is important to order the backpack by sections in such a way that the heaviest objects are strategically located inside the backpack depending on how it will fit us once put on. This is done to equalize our body's center of gravity, since it is not the same to carry 20 Kg glued to the body than if we remove it from our center of gravity. The further away from it, the more it will cost us to transport it, apart from the fact that the further we move it away, the greater the kick will be (that is, when we carry a very heavy and poorly balanced backpack and with each step it goes to one side or another) to time to walk with it.
"Ounces equal pounds, and pounds equal pain" – Courtney Thompson. Captain of the marines [SOURCE].
There is nothing written about the maximum weight a person can carry. It is evident that each person is a world, and each one is in a different physical form. In this regard, other factors also influence, such as the constitution of the backpack (as there are those that allow carrying more or less weight in a better or worse way), the activity to be carried out, sex, age, among others.
However, both the WHO and the International Journal of Environmental Research and Public Health recommend that you do not exceed 15% of the total weight of the person [SOURCE]. A percentage that could rise up to 20% in the case of a person in good physical shape. In this regard, the MilitariaGeneral team recommends that, if you need to carry a certain weight, you gradually make the increases to get your body accustomed to the weight. Otherwise it could end in injuries and be counterproductive to our goals.
However, if you ask us about this percentage, we recommend taking the essential minimum and basing our activity more on our skills than on our team with the aim of needing less things to be able to do the same. And, as far as possible, take weight as a fundamental factor when using equipment. When buying and modifying it. Another interesting idea is to share equipment or distribute it among more members of the group that are going to do the activity.
And above all, keep in mind that this 15% is a LIMIT, and NOT A GOAL to be achieved. If you can load 6Kg, don't load 10Kg. If you can carry 5.4 kg, do not carry 5.6 kg, because yes, it will depend on the activity you are going to do, but every gram counts if you have to carry it with you.
💬 ADVICES BASED ON MY PERSONAL EXPERIENCE IN THIS REGARD
AVOID THE AMAZON TACTICAL SHIT: One of the most common mistakes of those who start in this whole world is to go to the most popular shopping portals thinking that there they will find specific material, and nothing is further from reality. Amazon, as a general rule, is not the best place to buy police, military, tactical or security equipment. Chinadas (low quality Chinese material) are often found at good material prices. I personally made this mistake 2 times when trying to buy a "tactical" backpack as a teenager.
GET WELL ADVISED BEFORE BUYING A BACKPACK: This is something that from MilitariaGeneral we always recommend: Adequately advise yourself before spending money on a certain piece of equipment. For this we recommend that you seek reviews and opinions about the product in question that you are evaluating, and that if you have the possibility, test the equipment before buying it. In this regard, you should know that if you are interested in any equipment of our theme, we recommend that you take a look at our 🔎 REVIEWS SECTION, where we try to analyze in the most precise, clear and complete way the best pieces of tactical , police, military, defense and security equipment.
TEST NEW PARTS OF EQUIPMENT IN CONTROLLED ENVIRONMENTS: Something very important to your personal safety is that you test new pieces of equipment in controlled environments. That is, on short routes, with a controlled weight and without having the need to carry it. In this way you can determine if the backpack in question will serve you if you need it for a specific event.
For example, what I do to see how much is the weight margin to carry with a certain transport system comfortably and safely is to follow a controlled route with full water bottles inside. That way, if I see that it is too heavy to carry with that certain equipment, I can easily get rid of the load by emptying more or fewer bottles.
💯 IN SEARCH OF THE IDEAL BACKPACK.

THE PERFECT BACKPACK
As you imagine, what would the perfect backpack look like? What characteristics do you think a backpack should fulfill, yes or yes, and what kind of additions would you add? Then I will leave you my opinion about it, the points that I consider essential for a backpack to be the way I want it, to satisfy my needs and be as versatile as possible, to help anyone who is considering buying a new backpack or maybe modify one you already have.
If it depended on me to have the perfect backpack on my table right now, it would have to meet the following qualities: Be made of quality material, that does not tear or deteriorate with friction and the passage of time, or that the seams end up yielding when overloaded, much less end up being useless because the zipper itself and ends up spoiling or breaking.
At the same time, I would also like a backpack that is as versatile as possible, that I can use it for as many occasions as possible, with a capacity that without being completely variable, I can adjust it to my needs… And for all this to come together I think a good option would be a MOLLE backpack (to be able to add the pouches you need depending on the need you have at the time), rucksack type if I do not need to divide the load into compartments, so as not to need zippers , or if I need it, at least with quality zippers, and to be able to be built in Cordura 700, so that it is resistant but not as heavy as the 1000.
📜 SOURCES AND CONSULTED MATERIALS