ABOUT THE RUSSIAN RATNIK PROGRAM
📝 RATNIK PROGRAM 6SH11X LOAD BEARING VESTS SERIES (6SH112, 6SH116 AND 6SH117) (6Ш112, 6Ш116 Y 6Ш117)  REFERENCE
📋  25L PATROL BACKPACK MAIN FEATURES 
INSIDE DIMENSIONS (SIDE POCKETS)
OUTSIDE Dimensions (Total)
INTERNAL DIMENSIONS (Main bag)
DESIGN
It is a small Rucksack-type backpack, with a total capacity of approximately 25L (expandable by the outside PALS panel) and with the compression straps that it has both underneath and on the sides (In which we could put a mat, sleeping bag, clothing items and the like).
As for compartments, we find 3 main ones: 2 sides with enough size to fit 1 1.5 L water bottle in each one, and then the main one where we also find a small waterproof pocket, supposedly to store documents. Behind the side pockets, there is a small attached compartment.
Supposedly to be able to carry a load of RPG-7 in each one, shears and other tools. The opening / closing of the backpack is done by a lid (backpack cover) that is closed with fastex clips.
In addition, in said lid (the backpack cover) there are 2 other small pockets closed by velcro. In one of them the rain cover is hidden (White, in order to camouflage the backpack in snowy environments).
AVAILABLE COLORS AND CAMO PATTERNS
Due it is a backpack that is part of the regulation equipment of the Russian army through its Ratnik Program, and therefore it is most common to find it in the EMR (Digital Flora) camouflage pattern, it is also manufactured in other camouflages, such as :
 EMR (Both the summer version with the black dotted and the greener classic).

VSR-98 (Flora)

Woodland (Techincom copy)

Olive

Coyote
They used to be made in more camouflage colors and patterns, but since they weren't too popular, I guess they stopped making them. Finding them in any other camouflage pattern other than EMR or Olive is really difficult, so the price usually increases considerably.
MATERIALS
According to the information provided by the manufacturer itself, the fabrics used to manufacture the 25L patrol backpack from the Ratnik program are:
1000D nylon

Mogotex fabric
All straps are nylon, D-rings and adjusting clips are metal, and fastex tensioners and clips are plastic. In both the back and the straps it has dense foam inside to contribute to the comfort of its bearing.
CONSTRUCTION
It is a backpack with a very solid construction.
After a year of use and loading it a lot (Whole weeks with approximately 17Kg, and only once carrying a 62 Kg boat battery), not a single seam has skipped.
We have to keep  in mind that it is a backpack made to last, designed under military specifications from a doctrine that prioritizes the longevity of its materials, so its resistance is absolute.
🧪 STANDARDIZED TESTS FOR MATERIAL ANALYSIS
In MilitariaGeneral we want to offer quality reviews based on evidence.
Therefore, we carry out certain tests to be able to objectively analyze the quality of the material to be analyzed. For more information about these tests, visit the section 🧪 STANDARDIZED TESTS FOR MATERIAL ANALYSIS to obtain more information about how we do that and what criteria and premises we rely on.
Clicking in "+" you can get more details.
Excellent quality/price ratio
Although this feature is diminished by the fact that it has to be imported from Russia, it is a not very expensive backpack for the quality and robustness with which it is built.
Durability
It is a very resistant backpack, which from my own experience I can say that it holds 17Kg perfectly without deforming or suffering any type of wear or additional damage.
The only point against in this regard is perhaps the loop and hook system (wrongly called velcros) that it brings by default, since with the passage of time, the use and I suppose that the process of getting wet with the rain and drying ends up losing fixing capacity.
Simple, but useful design
Being a Rucksack type backpack eliminates smaller pockets and compartments that often clutter and steal volume from backpacks.
COMFORTABLE
The shape and padding of the shoulder straps, as well as the back of the backpack itself make it quite comfortable to wear.
On a daily basis I use it loaded with approximately 12-15 Kg and I hardly notice that I am carrying it.
CONS
Additional complication to get it
By having to bring it from Russia, the price increases, so the quality / price ratio that it originally had decreases, apart from the possible problem of having to eat a customs duty.
It is difficult to get the backpack in other colors than the EMR camouflage pattern
At being a product designed and manufactured mainly for the Russian army, most of the units that we can find online are found in an EMR camouflage pattern, so if you want to get in another color you will have to look more and probably pay something more.
Metal parts are prone to rust if left untreated.
The same happens with everything produced by Techinkom. If all the metallic parts are not varnished or coated, they end up rusting and staining the fabric that holds it.
💬 PERSONAL EXPERIENCE WITH RATNIK PROGRAM 25L PATROL BACKPACK
I've been using it almost daily for the past year, sometimes alternating it with the  5.11 Rush 12 we saw in this review: 🔎 5.11 RUSH 12 BACKPACK | REVIEW

I have loaded it quite a bit, and so far I have not seen any wear on it. Perhaps the only negative thing to note is the issue of rusting the metal clips … something that on the other hand is easily repairable. If I had to buy it again I would not hesitate for a moment.
🛒 RECOMMENDED SHOPPING OPTIONS
TRANSPARENCY STATEMENT: The following purchase links are referral links. This means that for your purchase, MilitariaGeneral will take a small percentage without you pay not a penny more. The profits that we obtain with this will be used to pay for the hosting of the website and buying the materials we show here.
💱

RECOMMENDED PRICE

: 50-60€
*If you find the purchase link down, please send us a message via RRSS, and we will offer you a solution as soon as possible.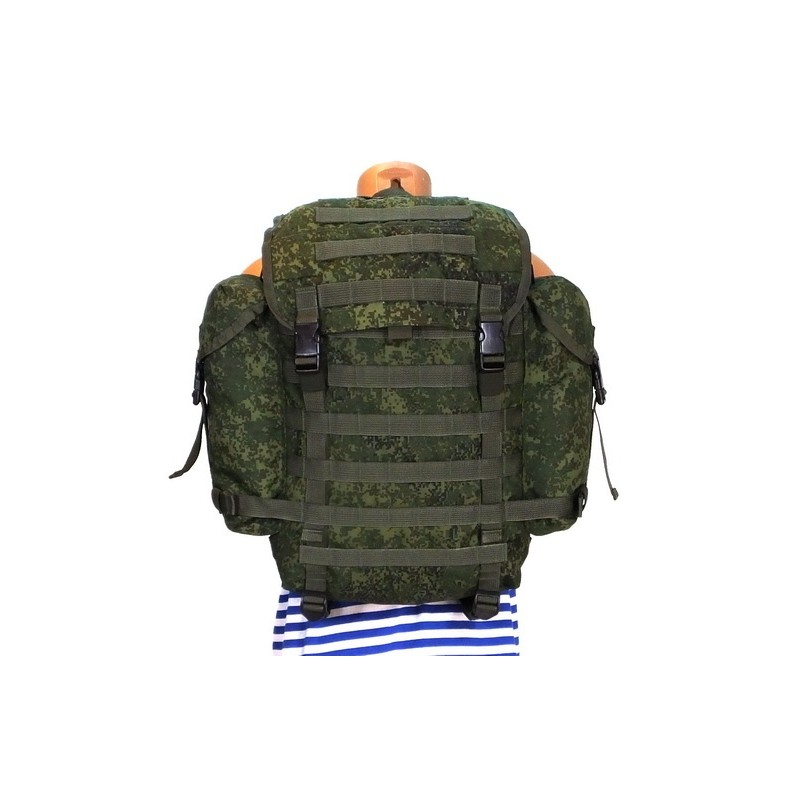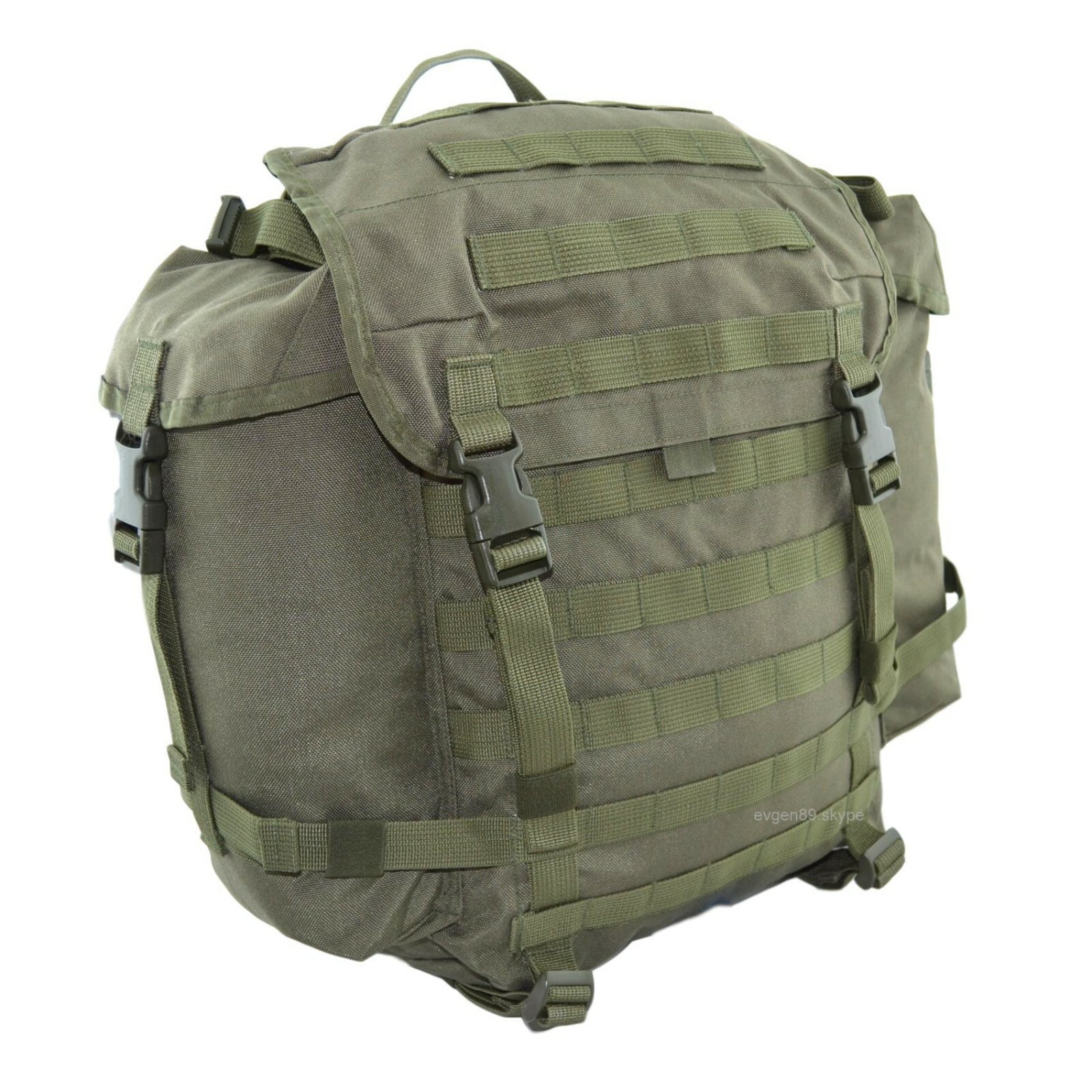 🖼️ REFPICs (REFERENCE IMAGES AND VIDEOS)
For practicaly, we decided to not include  Refpics (Image and Video references) from the Ratnik Program 25L Patrol Backpack.
To watch it, we recommend you visit our REFERENCE post, attached higher in this post.
📸  25L PATROL BACKPACK IMAGES 
🔧 POSSIBLE MODS TO IMPROVE THE 25L RATNIK PATROL BACKPACK
ELASTIC FOR THE METAL TENSIONER
The real problem with this metal tensioner seen in the image is that due to its physical characteristics it is not uncommon for frequently using the backpack to end up tearing the clothes that are usually used together.
Especially those that have a water repellent coating (TFU Coatings, Shark Skin…). Therefore, an easy and cheap option to correct this problem is to cover said tensioner with an elastic band. (Although in case of need it could also be done with a bicycle wheel tube, with a piece of cloth or even with electrical tape …
Although if you use a heat shrink tube it may be quite good. In case of opting for this option, it should be known that the width of the tensioner is 35 mm, so a 40 mm one should be the ideal one to use it.
VELCRO BANDS TO COLLECT THE STRAP EXCESS
It is a simple modification that prevents the straps from being loose and can be collected without much complication.
When the backpack is full there is no problem with this because basically all the straps are taut, however when it is emptier or completely empty, there are usually some loose straps.
To do this, all you have to do is sew a velcro strip used to collect the cables at the end of the strap, so that the excess can be collected and secured with said velcro strip. In the image you can see the difference of wearing the right strap on while the left is loose.
Then, the reader will be able to get an updated list of everything that happens with this reviewed product.
20/1/21 – Post publication. No news.
📜 SOURCES AND CONSULTED MATERIAL 
In first place, my experience with this backpack, adquired using it daily during 2 years.